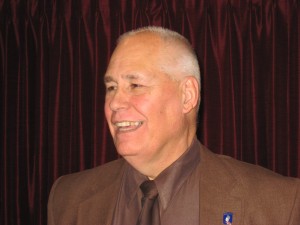 Pastor Roger Evans lives in Colorado Springs with his wife Linda.  They have three grown children.
Founded in 1983, Sovereign Grace Chapel has been led by him ever since. Concurrent with beginning of the church, he also started Trinity Bible Institute to provide local training for anyone seeking to learn the great doctrines of the Christian Faith.
After military service in Vietnam, Pastor Evans began his academic and theological career by devoting himself to a lifetime study of the Word of God.  This led him to the acquisition of two bachelor's degrees (Jersey Shore Bible Institute, Th.B. and Dallas Baptist College, B.A.), and three Master's degrees (New Jersey Biblical and Philosophical Institute, Th.M., Dallas Theological Seminary, M.A.B.S, and Trinity Bible Institute, ST.M). He is now a Th.D. candidate at the California School of Theology.
Through his studies, Roger focused on the development of what he has termed integrated theology.  He defines this as the reconciliation of all the Bible's teachings into a harmonized whole through the use of a literal interpretation of Old and New Testaments.  Integrated theology is his great gift to those who have studied under his teaching.
Pastor Evans' breadth of knowledge of the Scriptures, systems of Christian theology, competing philosophical systems, world religions and cults is rivaled by few men.
A brief welcoming statement from the pastor